Juvenile nasopharyngeal angiofibromas (JNA) are a rare benign but locally aggressive vascular tumor. Epidemiology Juvenile nasopharyngeal angiofibromas. Introduction: Juvenile nasopharyngeal angiofibroma (NAJ) is a tumor with .. Acessos Cirúrgicos no Angiofibroma Nasofaríngeo Juvenil – Relato de caso e. Juvenile nasopharyngeal angiofibroma (JNA) is a rare and benign but locally aggressive fibrovascular tumor arising from the posterolateral wall of the.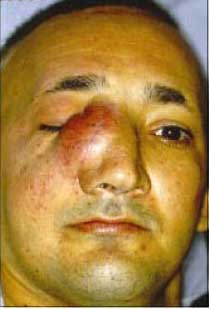 | | |
| --- | --- |
| Author: | Samugul Gardagal |
| Country: | Botswana |
| Language: | English (Spanish) |
| Genre: | Sex |
| Published (Last): | 7 December 2011 |
| Pages: | 229 |
| PDF File Size: | 4.55 Mb |
| ePub File Size: | 14.70 Mb |
| ISBN: | 837-6-81096-621-3 |
| Downloads: | 10849 |
| Price: | Free* [*Free Regsitration Required] |
| Uploader: | Megami |
It has become an important tool to be kept up to date. The Journal publishes Original Articles articles on basic research and clinical investigationreviews, brief communications, case studies and images, which are subjected to a rigorous peer review process. CiteScore measures average citations received per document published.
Nasopharyngeal angiofibroma
SRJ is a prestige metric based on the idea that not all citations are the same. SJR uses juveil similar algorithm as the Google page rank; it provides a quantitative and qualitative measure of the journal's impact.
SNIP measures contextual citation impact by wighting citations based on the total number of citations in a subject field. Juvenile nasopharyngeal angiofibroma JNA is a rare benign tumour in adolescent males. It may be associated with a significant morbidity because of its anatomical location and its locally destructive growth pattern. Severe haemorrhage constitutes a high risk in JNA and its surgical management could be complex. We juvenio analysed the clinical data from 43 patients with JNA surgically treated in our Department from until Mean postoperative follow-up time was 85 months.
Analysis was performed on 42 males and one female. Mean patient age was 16 years old. All lesions treated via transnasal endoscopic approach were stage I and stage II lesions. Surgery is the treatment of choice for JNA. The open approaches proved helpful with respect to exposure, safety, cosmetic outcome and low morbidity. Preoperative embolisation, if possible, is mandatory. El tiempo medio de seguimiento fue de 85 meses. Zngiofibroma nasopharyngeal angiofibroma JNA is a vascular tumour angiofkbroma most often near the sphenopalatine orifice.
These JNA tumours have a low incidence 1 case per inhabitants and represent less than 0. A JNA initially occupies the nasal fossae and cavum and its vascular afferents originate from angiofiroma branches of the internal maxillary artery.
Subsequently, the tumour erodes the surrounding bone and can spread widely into the paranasal sinuses, pterygopalatine and infratemporal fossae and the oral cavity or even penetrate into the orbit or become intracraneal.
Symptoms of JNA depend on tumour location, size and extent. Nasal obstruction, initially unilateral and subsequently bilateral, and unilateral and recurrent epistaxis are the most frequent symptoms.
One of the most used is the Andrews—Fisch classification, 8 which divides the pathology into 4 stages Table The treatment of choice in JNA is surgical, after angiography and selective embolization centred on the arteries that nourish the tumour.
For JNA with extensive spread to the infratemporal fossa and skull base, carrying out open approaches is preferable to achieve a proper removal. The purpose of this study is to present our experience in the treatment of JNA, primarily focusing on the type kuvenil surgical approach used, and to review the disease based on the literature and our own experience.
We reviewed the surgical registry of the Otolaryngology Service at our hospital from until Maycollecting data from medical records pertaining to patients diagnosed with JNA. The study population consisted of 43 patients undergoing surgery. Of these, 23 angipfibroma were referred from hospitals in other regions.
Data collection was based on the review of clinical records, noting data on age, gender, performance of previous surgery, tumour size and staging, clinical presentation, mean time from the start of symptoms until kuvenil patient had surgery and surgical approach, complications and monitoring.
The classification of JNA was carried out based on the Fisch classification. We also quantified mean blood loss during surgery and transfusion requirements. The mean follow-up time was 85 months range, 10— months. We used the SPSS The sample consisted of 42 male patients and one female, whose mean age at diagnosis was 16 years median, 16; range, 8—26 years. A total of 12 patients angioflbroma undergone surgery 20 surgical interventions prior to being operated on at our service, performing a subtotal resection of the tumour, a biopsy of the tumour or a reduction of the tumour without achieving its total resection.
These interventions were carried out by SNES or else by a lateral rhinotomy. On 4 occasions, more than one intervention by SNES had been performed before referral to our centre.
Pathology Outlines – Nasopharyngeal angiofibroma
The mean time from onset of symptoms until surgery was 12 and half months 1—60 months. One patient referred from another centre, who was later intervened by infratemporal approach and currently has residual tumour, attended our service with loss of vision in one eye due to parasellar infiltration of the tumour Table The patients were examined by nasofibroscopy and an MRI and CT scans with contrast were requested before surgery to study tumour extension.
In 34 patients, the primary tumour irrigation system came from the external carotid artery; in one case, the tumour was irrigated by circulation from only the internal carotid artery. In the remaining 8 cases, the tumour received its vascular supply through both arterial systems. In 3 patients, we confirmed the existence of bilateral irrigation from the external carotid artery system.
Embolisation was not carried out in patients in whom we failed to perform angiography and in whom irrigation was obtained mainly through branches of the internal carotid artery. Angiography image before A and after B embolisation, showing the vascular supply from the internal maxillary artery in a sagittal view. Intraoperative samples of the mass were sent in all cases to the Anatomical Pathology Service to confirm the diagnosis of JNA.
Table 3 shows the approach used depending on tumour stage.
Angiofibroma nasofaríngeo juvenil
In 8 cases 2 subtemporal approaches, 3 lateral and 3 superior facial translocations we performed a surgical defect reconstruction using a temporalis muscle flap. Postoperative coronal C and axial D CT scan of the same patient, after tumour resection through endoscopic sinonasal surgery.
Anterior facial translocation by degloving. SNES, sinonasal endoscopic surgery. Mean blood loss during surgery was mL range, — mL. One patient who underwent lateral facial translocation Stage IIIb and another intervened using a subtemporal preauricular approach Stage IIIa suffered dehiscence and surgical wound infection, which were treated with antibiotic therapy and conservative measures; another 2 patients, operated on by a preauricular subtemporal approach Stage IIIb and an anterior facial translocation Stage IIIbrespectively, presented paresis of the 6th cranial nerve, which evolved favourably.
As long-term postoperative sequelae of note, we recorded development of a significant trismus in one patient intervened by subtemporal preauricular approach and a certain degree of epiphora in 2 patients with lateral facial translocation. The mean hospital stay of all patients was 12 days range, 3—39 days. Postoperative radiotherapy was used to treat 3 patients, with 2 of them having stable tumours at present and another being disease-free.
Two patients received radiosurgery, one of which responded well and the other remained with a stable tumour. Meanwhile, 3 remained under observation. Progression of the disease was found in one of them, who required a new intervention by preauricular subtemporal approach, while the remaining two presented stable disease Table Treatment of Persistent Disease. Both patients Stage IIIb had been operated on using open approaches; one of them had undergone a surgical rescue by SNES and another through a preauricular subtemporal approach.
Both of them remain free of disease at present. During follow-up, there were no deaths due to the tumour or complications thereof, nor due to intercurrent causes.
A JNA tumour is histologically benign, but it can be locally aggressive and destructive. All patients in our study were male except for one case. The mean age at diagnosis was 16 years, which was similar to that reported by other series.
Our female patient underwent a karyotype, which reported her 46XX condition, subsequently confirmed by her motherhood.
Interestingly, in addition to presenting this tumour, this patient also had surgery for a pilonidal sinus, a pathology that is also typical of males. The aetiology and pathogenesis of JNA are nuclear, but genetic and hormonal factors have been implicated and could explain why the prevalence of these tumours is higher in males. The presence of recurrent unilateral epistaxis and unilateral respiratory failure in a young male is generally the clinical presentation of patients with JNA.
Occasionally, these tumours have a mild initial clinical presentation, with conductive hearing loss secondary to unilateral secretory otitis media. Tumour extension produces rhinosinusal symptoms and facial swelling. Visual and neurological deficits may also appear when the orbit, skull base or endocranium are affected.
These figures are similar to those described in the literature. Delay in diagnosis was common before the introduction of imaging methods and when this was obtained, patients presented advanced-stage tumours with frequent intracranial and skull base involvement. In our case, the average delay between symptom onset and surgery was The diagnosis of JNA is based on clinical history, physical examination and nasofibroscopy. In the latter, the most common sign is the presence of a reddish mass located at the back angiofibroa the nasal cavity and the cavum, often lobed and juvneil.
A differential diagnosis xngiofibroma be angiofibro,a with other benign tumours such as Killam polyps, meningoencephalocele or inverted papilloma, and with malignant tumours such angiovibroma sarcoma, chordoma and epidermoid carcinoma.
However, if the suspected diagnosis is JNA, biopsy should not be performed due to the risk jyvenil profuse bleeding. All patients should undergo imaging studies CT and MRI to guide the diagnosis and, above all, to stage the tumour, observe tumour extension and plan treatment, as well as to subsequently assess tumour persistence and recurrence.
There angiofibromaa several classifications of JNA, 15,16 but that by Andrews—Fisch 10 is the most widespread in the literature. Recently, due to the important role of endoscopic surgery in the treatment of these tumours, Snydermann et al.
These authors reported that tumour size and sinus extent of the disease are less important factors in predicting complete tumour excision, a philosophy which we share. Furthermore, they report that residual tumour vascularisation after embolisation is related to intraoperative bleeding, the rate of recurrences and the need for a second operation. Angiography is important in determining the pattern of blood supply. Preoperative tumour embolisation promotes a better control of intraoperative bleeding and a possible reduction in tumour size.
Both factors are associated with a better visualisation of the surgical field during surgery especially in endoscopic procedures which entails a greater likelihood of complete tumour resection, a key factor in the absence of disease recurrence.
Those branches of the internal carotid artery arising from neoangiogenesis phenomena that influence tumour growth cannot be embolised. Embolisation does not usually cause sequelae, although some cases of amaurosis and hemiplegia have been described, 19 as well as paralysis of cranial nerve pairs. In our study, we found no significant overall differences in the requirements for intraoperative and postoperative transfusion of packed red blood cells among those patients who underwent tumour embolisation before surgery and those who did not.
These data contrast with the obvious evidence and the data published by other authors, who observed that embolisation reduces the need for transfusions. Various treatments have been proposed, although the treatment of choice for all stages of JNA is surgery.
Spontaneous regression angiofibromq untreated JNA has been observed only ocasionally. External stereotactic radiotherapy RT as the only treatment is indicated only for certain inoperable tumours, with intracranial extension and involvement of structures such as the cavernous sinus or optic chiasma. Normally, RT fails to reduce the tumour, but stops its growth.